Gehlen Catholic Mission Honduras
Changing Lives
2015 Journey

With the theme "Always There" the 15th Gehlen Catholic student mission trip kicked off with a very moving send-off prayer service in the LeRoy Kellen Memorial Gym on Tuesday, March 17. Sara Mayer Westhoff, who had participated in two previous mission trips, spoke of how special mission work is and its necessity. The thirty-two adult and student missioners each lit a candle as Christian Leadership Team members read aloud the reason each missioner was lighting his/her candle and the reason he/she wanted to go on the mission trip. Family members then presented the missioners with their t-shirts, crosses, and "junta" booklets, sending them out with their blessings.
Gehlen Catholic School students and staff lined memory lane from the school door to the bus. As the missioners carried the bags filled with donated supplies through the human tunnel, the students touched the bags, signifying that a part of each of them would travel with the missioners into Honduras.

"My mission trip was a good reminder that here in the United States we live in a very materialistic culture, but in reality, we need very little to live off."
~ Rachel Kellen
"Though we helped the Hondurans, and they were very grateful, I feel they gave me more in the life lessons they taught me. Whereas we gave them a house or clothes that will only last for a while, the mission trip made me a better person and put my life into perspective."
~ DJ Loutsch

This team's mission was to build homes for three extremely poor families in the Nueva Capital area of Tegucigalpa, along with ten bunk beds and three picnic tables to be used at Santa Teresa de Jesús School. Nueva Capital is mainly comprised of families who had to move to higher ground when Hurricane Mitch destroyed their homes in 1998. We believe approximately 125,000 people live in the Nueva Capital area. Although many previous Gehlen Mission Honduras teams had worked on water projects, this year's team, like the 2014 team, was unable to do so due to the absence of water projects in the area to which we previously traveled. The team would work in Honduras from March 18th to March 28th.
Francis Seivert, Julio Rivera, Marta Sosa, and Carlos Chicas met the team at Toncontin Airport in Tegucigalpa. Francis had been in Honduras since December 2014 preparing for the team's arrival, as well as working with various children who have medical problems. Julio Rivera accompanies Francis throughout Honduras and is a long-time friend of Mission Honduras LeMars, Gehlen Mission Honduras, and Then Feed Just One. Marta Sosa, a member of the Cerro de Plata Foundation in Tegucigalpa, handles the distribution of Then Feed Just One food in Honduras. She also helped in the planning for the 2014 Gehlen Mission trip. Our bus driver Carlos has become a trusted friend of Gehlen Mission Honduras over the years. He is much more than a bus driver for our team, pitching in on all aspects of the trip. This group quickly had the team loaded onto buses and on the way to Nueva Capital.
"The families were so grateful for everything that we did for them. To us, it was just a tiny house, but to them it was everything."
~ Janessa Milbrodt
"During the mission trip I grew so much more emotionally and spiritually than I ever expected."
~ David Puhl

This year's mission team consisted of Carolyn Bickford (team leader), Francis Seivert, Linda Reichle, Sr. Joan Polak, Dave Klein, Janet Klein, Mary Klein, Fr. Doug Klein, Pat Jones, Bruce Kellen, Keith Bretey, JD Hunt, Mark Konz, Dennis Schmit, Caroline Ascherl, Michaela Bretey, Abigail Chagolla, Carter Davis, Lucas Hunt, Alex Kellen, Rachel Kellen, Nathan Klein, Nicole Konz, DJ Loutsch, Janessa Milbrodt, David Puhl, Joscelyn Schipper, Ashley Schmit, Brittany Schmit, Melissa Schmit, Molly Suntken, Sydnee Theisen, and Morgan Whitehead. After arriving at Santa Teresa de Jesús School, their compound for the trip, the team settled into their cramped quarters and readied themselves for their 10-day mission.
Each missioner on all Gehlen Catholic mission trips is responsible for all his/her own costs. To date the Gehlen and Mission Honduras program combined have placed 794 missioners (36 different teams) on the ground in the second poorest country in the western hemisphere. Five other mission programs have been created from Gehlen Mission Honduras - the Briar Cliff University program in Sioux City, IA; the Sisters of St. Francis, from Dubuque, IA; the high school mission teams from Springfield Catholic High in Springfield, MO, St. Thomas More High School, Rapid City, SD; and Bishop Heelan High School, Sioux City, IA. The Gehlen program, along with the Briar Cliff, the Sister Water Project, Mission Honduras LeMars, and Rotary For Life Water Project, have completed 37 water projects to date and sent ten full scale medical brigades over the years. Clean drinkable water, Then Feed Just One food, home building, and professional medical care, remain the major goals of the Gehlen Catholic / Mission Honduras program. For more information on the medical program please visit this same website for the January medical trips. For more information on Then Feed Just One please visit www.thenfeedjustone.org. For more information on Mission Honduras LeMars go to www.missionhonduraslemars.org.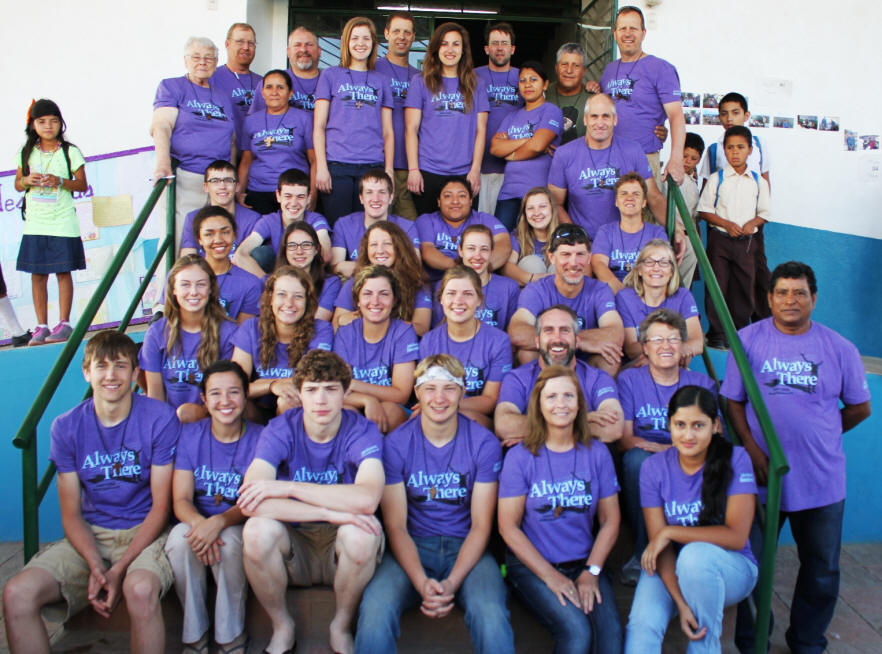 "The church by her nature is missionary.
She exists so that every man and woman may encounter Jesus."
~ Pope Francis

Planning for this year's mission team began during the summer of 2014 when team leaders met to decide the direction the team needed to take. With the lack of water projects around the Esquias area and having one year of home building completed in 2014, and other mitigating circumstances, it was determined two years ago the team would take a new direction, focusing on relocating to Nueva Capital. Marta Sosa of the Cerro de Plata Foundation, in conjunction with ACOES located three extremely poor families in the Nueva Capital area of Tegucigalpa who desperately needed homes. Planning then began to prepare the team in the task of the home constructions.
The team "lived" at the school, using classrooms as dormitory rooms. Supplies - such as paint, construction tools, painting supplies - that the team used were stored inside their dorm rooms also. Missioners slept on mattresses that were placed on the floors in the classrooms. The team used the library for meals, which were prepared each day by the hired cooks, Iris and Karen. Work days began at 5:30 – 6:00 a.m., allowing the team time to eat breakfast and finish their chores before beginning the day's project.
"I have never felt as happy and faith-filled
as when I was in Honduras
and working with the people there."
~ Josie Schipper
"I loved being the reason for the Honduran's smiles and their tears of joy. I will never forget how much the Hondurans impacted me and made it a life-changing experience I won't forget anytime soon."
~ Brittany Schmit

The missioners were divided into groups each day to undertake the various jobs in the area. One group taught English lessons to students in the lower elementary grades. Each day the missioners were divided into different groups to allow each missioner to do the various jobs. The missioners also built ten bunk beds for families in the area and three picnic tables for the students to use. After the homes were built, the missioners and families painted the outside and inside of each home and installed the wiring, even if the family did not have access to electricity presently.
One special day the missioners traveled to a feeding center in Talanga. At the center poor children in the program are fed a noon meal when they leave school. These children are taught to pray before meals, to wash their hands properly, to use proper table manners, and to brush their teeth after eating. The Gehlen missioners were quite excited to discover that the children in the center are often given Then Feed Just One food, packed in various schools, churches, communities and clubs throughout Northwest Iowa.
"The mission must continue, and hopefully, all who have experienced this mission trip will continue their mission here at home
every chance they can."
~JD Hunt
"It is hard to believe that the
country we are born in can make
so much difference in who we are and what we have."
~ Dennis Schmit

The overall Gehlen Catholic Mission Honduras 'Changing Lives' program has three main goals for each mission journey into Honduras: to do a work project of some kind, to immerse themselves into normal Honduras life, and to experience the poverty that grips so much of this beautiful country and people.
When the missioners delivered the gift bags to the homes of the Santa Teresa school children, the poverty was quite apparent to all. The families receiving the gift bags smiled as the missioners unpacked soap, shampoo, toothbrushes, toothpaste, lotion, toys, clothes, and shoes. Even the bag the items were delivered in was considered a gift to the family. Seeing the dirt floors and walls of worn boards with gaps between them, truly gave the missioners an eye-opening look at the reality in which the Honduran children live each day. The formidable walks the children undertake in the early morning hours to get to school by 7 a.m. showed how important their education is to them.
"I have taken a couple things with me from my short time
in Honduras. The first thing is to be grateful for everything that I have, even the little things like running water and indoor plumbing. I used to take these things for granted,
but I think twice about it now. Another thing is to love everyone as if they were my family. I will be moreaccepting of others after this experience."
~ Molly Suntken
"A lot of people have been asking me questions,
such as 'How did the trip go?' or 'What was your favorite part?' I don't know how to answer. I do a
lot of listening for the chickens, dogs, and buses
at night, but most of all I listen to what God is
calling me to do next with my life to fill the piece
of my heart I left in Honduras."
~ Morgan Whitehead

On the Thursday before their departure, the missioners had a special farewell liturgy with the afternoon students (700 students) of Santa Theresa de Jesús School. Fr. Doug and Fr. Patricio concelebrated the Mass. The music was led by a talented blind Honduran youth. He played the keyboard and sang the music. The missioners own choir group sang their theme song, "Always There" by Celtic Thunder, as the meditation song after Communion. The missioners also excited the school students by presenting the school with more than twenty soccer balls. These soccer balls were donated by One World Play Project, whose goal is to donate soccer balls to groups living in poor areas around the world. Fr. Patricio thanked the missioners for all their work for the people of Nueva Capital and invited Gehlen Catholic Mission Honduras to return for years to come.
The 2015 mission team definitely met the goals of their mission trip. From working diligently on their chosen work projects, to playing with the children, to participating in liturgies, the team received the opportunity to see what Honduran life is like. From hand washing their own clothes in the pila, doing daily chores, and taking one-minute cold showers, our missioners experienced a little of what life is like for a person in Honduras. The missioners worked hard at using their Spanish, and many students were happy to be able to carry on a conversation with someone in Honduras. Many friendships were forged. Not a single team member was ready to return to the States when the final day of their trip arrived.
"While changing the lives of the Hondurans
for whom we built homes, we definitely changed ours, and we are all better people because of it."
~ Carolyn Bickford
""I'm closer to God for having spent quality time
with my Honduran brothers and sisters...
for having served the poor...
for being enriched by them."
~Keith Bretey

It has become customary for the missioners to return home with only the clothes on their backs. Team members sorted through all their personal belongings and stacked them in a designated area in the library. These items will be taken by the ladies and men of Nueva Capital, washed, and distributed among those who are the neediest. Team members leave not only their clothing, but their shoes, flashlights, sunglasses, and other items. That alone says a great deal about the quality of young people with whom we deal with on our mission teams.
The tired missioners returned home the next evening to their families' welcome at the Omaha airport. Though all missioners were happy to be home, every single person shared their wonderful mission experience with all who would listen. This year's theme "Always There" was lived by each and every missioner as they lived their mission journey in Honduras. Each day they let Jesus shine through them as they worked and played among the Hondurans. They let Jesus shine through as they served their TFJO food at the Talanga feeding center. They let Jesus shine through as their lives were changed through their mission work. Gehlen Catholic Mission Honduras 'Changing Lives' – what a fitting title!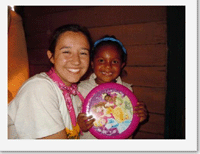 Click above to browse the March 2015 Trip Photo Album...