Gehlen Catholic Mission Honduras
Changing Lives
2012 Journey
Celebrating the 13th straight year of mission teams into Honduras, Gehlen Catholic Schools hosted a send-off ceremony for 25 high school students and adults on Wednesday, March 28th in the school's gymnasium. This ceremony has become a tradition rich and wonderful expression of faith for the entire school and community. This year's theme, 'Won't Let Go', was a central focus of the send-off and reflects Gehlen Catholic Mission Honduras' commitment to the wonderful children and people of Honduras, the second poorest country in the western hemisphere.
An emotional and very special part of the ceremony involved the washing of feet of the 25 missioners on the team. Fr. Kevin Richter, president of Gehlen Catholic Schools, spoke of the need to do the same in Honduras through the service the team was about ready to do.

It is hard for me to understand how a child can live in a hut, barely eat, and yet show a complete stranger such unconditional love. It is something unexplainable. I want to be happy for these children because of their happiness, but I just can't stop thinking about their future. For now I am having difficulty with these things.
~ Madeline Hanno
Family members presented each missioner with their cross as the missioner's statement of 'why they were going to Honduras' was read. Each missioner then donned his/her t-shirt after the washing of the feet. A 'junta' booklet that the missioners used for journaling and a prayer card that included a special travelers' prayer was also given to each of them.
The Gehlen team was the second leg of this year's mission program. Bishop Heelan Catholic School, Sioux City, Iowa, was the first team to enter Honduras this year. The Heelan team focused on building two homes in the New Capital area just outside Tegucigalpa, from March 20th to March 28th. The Gehlen team traveled north of Tegucigalpa and once again used the village of Esquias as their base of operations. The Gehlen team began the water project in the small mountain village of El Picacho from March 29th through Easter Sunday, April 8th. The third and final leg of this year's program involved the mission team from St. Thomas More High School in Rapid City, South Dakota. They picked up where the Gehlen team left off in the village of El Picacho and worked from April 10th through April 19th.

I'm hurting; I really am, that I can't do more. It forces me to come to the conclusion that life isn't just. My initial reaction is to feel completely powerless. There's disease, crime, and poverty running rampant throughout this country and all I am is a teenager with a shovel. But that's just it, that's exactly what I am. If life isn't just, then it is the duty of the privileged to make it just.
~ Jack O'Brien, while building a house for a poor family

The Hondurans were so appreciative of all the gifts we had for them. The looks on their faces made me realize all the things we take for granted. All of the experiences have made all of us appreciate the things we have.
~ Josh Magana
All teams were met at the airport in Tegucigalpa by Francis Seivert and Julio Rivera. Francis had been in Honduras from December 27th, 2011, in preparations for all three of these high school teams. He, along with Julio Rivera, a trusted and close friend to Mission Honduras LeMars, Gehlen Mission Honduras, and Then Feed Just One of Le Mars, also carried out a medical team mission from March 5th through March 14th, right before the Bishop Heelan team, sponsored by Mission Honduras LeMars. Francis and Julio were assisted in the execution of all four mission teams by Marta Sosa, representing the Cerro de Plata Foundation, and Marny Rivera, representing the Illich Foundation. Please go to www.missionhonduraslemars.org for a look at the medical team mission of 2012.
Following is a complete list of all three high school teams that worked in Honduras this spring as part of this program.

From Bishop Heelan High School: Fr. Jerome Cosgrove (team leader), Sister Joan Polak, Pat Jones, Mike Wostoupal, Jo Ann Sawin, Ramon Alcaraz, Mary Beth McCabe, Tony Myers, Jack O'Brien, Josh Magana, Nick Sawin, Jeremy Nelson, Roland Henry, Kyle Hohenstein, Paul Jacobson, Wesley Schorg, Kelsey McCabe, Abby Wostoupal, Maddison O'Neill, Megan Little, Abbey Myers, Madeline Hanno, and Fisher Mollet.

From Gehlen Catholic High School: Carolyn Bickford (team leader), Sister Joan Polak, Linda Reichle, Don Bouma, Dave Klein, Janet Klein, Phil Hubert, Mike Ruhland, Joe Langel, Joe Begnoche, Trevor Bouma, Lauren Eide, Ali Galles, Bryce Hubert, Megan Heissel, Conor Kneip, Chad Langel, Rachelle Lipp, Brittany Loutsch, Austin Meyer, Alec Mousel, Micah Neary, Ross Ruhland, and Mick Sitzmann.
During one of the last 'juntas' of the Gehlen trip, the missioners were asked to name 1 "thing" they would give to the Hondurans if they could. The majority agreed that they would give them an education. Not long after that meeting, some local school officials requested funds for a $2,000 school program that teaches children self-sufficiency by educating them to raise chickens, grow vegetables, and raise tilapia. The missioners donated the full amount needed. A couple days later they donated over $1,000 to fund a year's education for our bus driver's (Carlos) daughters. Thus, given the chance to do so, they truly "gave" an education to many Honduran children.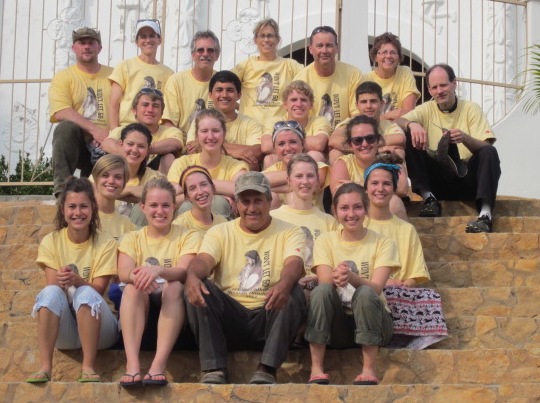 From St. Thomas More High School: Mary Casey (team leader), Barb Honeycutt, Fr. James Hoerter, Christopher Dobesh, Karrie Duffy, Mark Gibbens, Tony Griffith, Dominic Bradford, Elizabeth Carreiro, Jay Cooper, Witt Dobesh, Caitlin Duffy, Catherine Gibbens, Nicole Griffith, Rylee Haugen, Katie Kusser, Jordan Miller, Danielle Nielsen, Tessa Pesicka, Jordan Stratman, Jakeb Sullivan, and Kia Tucker.
Each missioner on all Gehlen Catholic mission trips is responsible for all their own costs. To date the Gehlen program has placed 702 missioners (32 different teams) on the ground in the second poorest country in the western hemisphere. Five other mission programs have been created from Gehlen Mission Honduras - the Briar Cliff University program in Sioux City, IA; the Sisters of St. Francis, from Dubuque, IA; the high school mission teams from Springfield Catholic High in Springfield, MO, St. Thomas More High School, Rapid City, SD, and Bishop Heelan High School, Sioux City, IA. The Gehlen program, along with the Briar Cliff, the Sister Water Project, Mission Honduras LeMars, and Rotary For Life Water Project, have completed 31 water projects to date. Clean drinkable water, Then Feed Just One food, and professional medical care, remain the major goals of the Gehlen Catholic program. For more information on the medical program please visit this same website for the January medical trips. For more information on Then Feed Just One please visit www.thenfeedjustone.org . For more information on Mission Honduras LeMars go to www.missionhonduraslemars.org .

One sees the poverty, yes, but more than that one sees the joy of God's people and the beauty of creation in the awesome panoramas of mountainous Honduras. But most of all, I saw generous youth spreading goodness, compassion, love, and care for the less fortunate. How inspiring!
~ Sr. Joan Polak
During my first mission trip my heart was touched by the Honduran people. Each year that I return to Honduras I feel somewhat guilty that I'm being allowed to experience the great satisfaction we feel when we serve others. I am also overwhelmed with the students' response to the Hondurans when they are given the chance to work alongside them, share meals with them, and play with them. It brings to mind one of my favorite quotes, "We make a living by what we get, but we make a life by what we give." Every missioner returns a changed person because they've learned the joy of giving.
~ Carolyn Bickford
Planning for this year's mission teams began last June 2011 when Francis Seivert, Carolyn Bickford, Linda Reichle, and Richard Seivert traveled to Honduras to lay the initial groundwork for these teams. In meetings with Marta Sosa of the Cerro de Plata Foundation in June, it was determined that the Heelan team would stay just outside Tegucigalpa and work on the construction of the homes while the Gehlen and St. Thomas More teams would do the water project in El Picacho.
The Heelan team stayed, worked, and lived with the people of New Capital in the school of St. Terese de Jesus. The school is run by Fr. Patricio Larossa from Spain through his organization ACOES. All Heelan missioners had a wonderful and rewarding experience in building these two homes for families that had been selected by Fr. Patricio and Marta Sosa. Many of the Heelan students also got a chance to work within the school itself and help some of the 4,000 students that attend throughout the day. Another major highlight of the Heelan mission was the visit they all made to Mother Teresa's Children's Home, 'Don de Maria' in Tegucigalpa.

In Honduras we experienced many eye-opening things. One of the most painful things to see was the Honduran workers turn down the food we offered them because of their pride. Even though they said no, you could see the pain and hunger in their eyes and faces. I will never forget that.
~ Mick Sitzmann
The Gehlen and St. Thomas More teams both lived in Esquias and the compound area next to the Catholic church. Both teams, as well, traveled 1 hour each way each day to work on the water project in the small mountain village of El Picacho. One highlight for the Gehlen team was the day they traveled to the malnutrition center in Sulaco, 'Casa Carolina.' At the center they interacted with the children who are left at the center because of moderate to severe malnutrition. It was an emotional but rewarding visit. Because of heavy rains the St. Thomas More team was not able to travel to Sulaco to visit Casa Carolina. Instead they had the opportunity to visit 'Comedor Pasionistas de San Diego', a feeding center for children in the village of Talanga. While at the center the St. Thomas More team intermingled with about 40 children of various ages that are fed one meal a day. Their visit was amazing.
The Heelan team's construction of two homes became the first time that one of our schools has done this. This program hired a construction carpenter from Honduras and made sure we had at least one experienced builder from the United States. The actual construction went very well, and the Heelan students finished one house completely and had a good start on the other. They worked very hard. They also constructed a 'pila' at each of the new homes and dug the latrines for each. Both families were on hand each day to watch the building of their new homes.

After seeing all that I saw in Honduras, I am most afraid of forgetting. This mission trip changed my life. I owe this change to all the people I met. I need to remember them and all that they did for me.
~ Lauren Eide

It almost seemed easy to make a difference in the lives of the Hondurans because they have so much less than we do. The simple things had a big impact on them, and it was very rewarding for me to be able to give something back.
~ Joe Langel
The job of the Gehlen and St. Thomas More teams in El Picacho was the construction of the water project for the entire village. In an agreement we signed with the village last June, the mayor of San Luis District would pay for the digging of the well and purchase of the water pump. The two schools would be responsible for the teams digging of trenches, laying pipe, construction of the 10,000 gallon water tank, and the purchase of all products necessary to complete the job. Side by side both teams worked with the children and people of Picacho. From hauling bricks and sand up the side of a mountain, to digging miles of trenches and laying water pipe, both the Gehlen and St. Thomas More teams worked very hard.
Both Heelan and St. Thomas More had Catholic priests as part of their mission trips, and as such, had wonderful religious experiences with them while in Honduras. From special Masses held in the school or compound to other prayer services, both teams experienced a closeness that they will never forget. The Gehlen team once again got the chance to experience all the Holy Week activities with the good people of Esquias. These are amazing experiences that none will soon forget. While in El Picacho, the Gehlen team also took the time to put a new cement floor in one of the poorest homes in the village – lived in by a family of six. All three teams shared their daily experiences in a nighttime ceremony we call 'Junta.' Many wonderful insights were shared during these nightly sessions.

A boy who cries becomes a man; a man who cries has a heart. Today I tried not to cry when saying good-bye to all of my new friends. As I sit here writing this, the tears continue to flood my eyes, but that's okay because I was once a boy crying - and this trip changed me into a man with a heart.
~ Dominic Bradford, upon leaving Honduras
The overall Gehlen Catholic Mission Honduras 'Changing Lives' program has three main goals for each mission journey into Honduras: to do a work project of some kind, to immerse themselves into normal Honduras life, and to experience the poverty that grips so much of this beautiful country and people.
The three teams certainly met all three goals. From working daily at their selected work project, to soccer matches and religious celebrations, our student teams got a taste of what it is like to live with very little. From hand washing their own clothes and doing daily chores, to one-minute cold showers and sometimes bucketing water for toilets, to working in daily heat sometimes over 100 degrees, to long and rough rides, our students and chaperones experienced the normal life of a person in Honduras.
The teams worked hard at using Spanish, and many of the students said they improved greatly. These teams made many new friends during each of their respective trips. Many did not want to leave. The Gehlen student program over the years has developed a custom of returning home with only the clothes on their back. Each year the individual team members begin sorting through all their personal items and on the last day stacking everything in their living quarters. These items will be taken by the ladies and men of the village, washed, and distributed among the neediest. This practice has been passed on to the teams from Springfield, Heelan, and Rapid City. That alone says a great deal about the quality of young people we deal with.
Later, I found out that she was saying, "Thank you for everything you have done; God bless you forever." I hugged the kids so tight while bawling my eyes out. I didn't know how to say, "I love you forever" in Spanish so I signed it to a girl, and she said "Si, Si" and gave me another long hug. I've never been so overwhelmed.
~ Danielle Nielsen, trying to say good-bye to her Honduran friends in Spanish
Words cannot describe this experience, and it was a wonderful end to such an amazing trip. In the words of Mr. Dobesh, "Don't cry because it's over. Smile because it happened."
~ Katie Kusser

Each team returned home on their respective nights, tired but full of the energy of the wonderful Honduran people they met, worked with, and lived with. The theme of this year's journey, 'Won't Let Go,' was experienced each and every day the young people saw, worked, and interacted with the people of Honduras. Each missioner, touched by their days in Honduras, was changed – many forever. Each missioner encourages others around the world to get involved in helping those less fortunate. To a person, each member of this year's teams was sad to leave the wonderful people of Honduras, the wonderful people of New Capital, El Picacho, and Esquias – we will never forget you and we will pray for you. We hope we came into your lives – you certainly did into ours, and we promise to NEVER LET GO. God Bless Honduras. God Bless The Poor Of The World.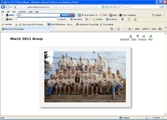 Click above to browse the March 2012 Trip Photo Album...
Gehlen Catholic Mission Honduras Student Trip 2012 PowerPoint