<![if !vml]>

<![endif]>

Gehlen Catholic Mission Honduras
Medical Team
January 2007
On Tuesday, January 16, 2007, sixteen health care professionals from four states left the U.S. bound for Tegucigalpa, Honduras, and the next in a series of medical / dental mission trips into Honduras sponsored by Gehlen Catholic Schools. As always the team's base location was El Guante, Honduras, and the parish center of San Rafael. Richard Seivert, director of the program, would join the team the last few days. (Click here to go directly to the Photo Album.)

There can be hope only for a society which acts as one big family, not as many separate ones.
~ Anwar el Sadat
Medical Team Roster
This year's medical brigade was composed of: Francis Seivert, Team Leader, Elkton, SD; Dr. Carlos Delgado, Emory University, Atlanta, GA; Dr. David Goo, Emory University, Atlanta, GA; Dr. Gary Carlton, Mercy Medical Center, Sioux City, IA; Dr. Jessica Doyle, Augusta, GA; Warren Steinbrueck, Pharmacist, Le Mars, IA; Tom Ryan, Pharmacist, Le Mars, IA; Dan Wernimont, Dentist, Pocahontas, IA; Luce, Dentist, El Guante, Honduras; Susan Doyle, Nurse-Midwife, Atlanta, GA; Diana Betsworth-Rann, Nurse, Merrill, IA; Leah Wernimont, Nurse-Dental Assistant, Pocahontas, IA; Darlene Ostrowski, Nurse, Hutchinson, MN; Natasha Wernimont, Nurse, Lincoln, NE; Lizzie Ryan, Pharmacy Assistant, Le Mars, IA; Sister Juanita Polak, Interpreter, Omaha, NE; Julio Rivera, Interpreter, Atlanta, GA; Sister Fatima Carcamo, Interpreter, El Progresso, Yoro, Honduras; Fausto, Interpreter/Driver, El Guante, Honduras; Angel, Health Promoter/Driver, El Guante, Honduras; David Castro, Program Assistant, El Guante, Honduras; Tacha Alvarado, Program Assistant, Esquias, Honduras; Dona Dilcia, Cook, El Guante, Honduras; Dona Dulce, Cook, Sulaco, Honduras; Dona Amelia, Laundry, El Guante, Honduras; Julio Martinez, Driver/Guide, Montana de la Flor, Honduras; and Richard Seivert, Program Director, Gehlen Catholic High School, Le Mars, IA.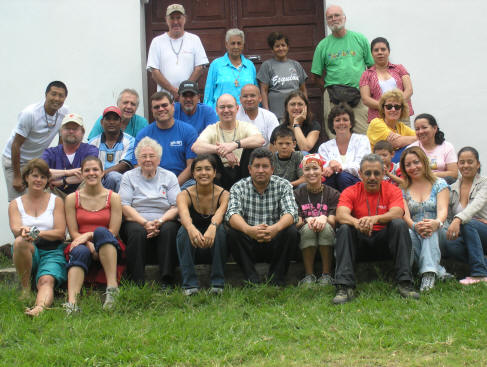 Where there is great love,
there are always miracles.
~ Willa Cather
For Information On Future Trips Please Contact:
Richard E. Seivert
Gehlen Catholic High School
709 Plymouth Street N.E.
Le Mars, Iowa 51031
1-712-546-4181 (school)
1-712-546-7346 (home)
rseivert2@yahoo.com
Director
Each year Gehlen Catholic High School, Le Mars, Iowa, sponsors this medical mission to the 'Hurricane Mitch' ravaged areas of central Honduras. It is eight plus years since Hurricane Mitch literally destroyed the small country of Honduras and much of the country's infrastructure. It is still in great disrepair and health care is minimal at best in many of the outlying areas. The program from Gehlen has successfully sent six straight medical teams during each January of the past six years.

I have the strength to face all conditions by the power that Christ gives me.


~ Philippians 4:13
Carlos Delgado commented, "Nowhere else have I seen a group of missioners quickly bond and work hard together during a whole week with the common goal of caring for the Honduran poor."
Along with the high school and university teams that go each year, Gehlen Catholic has placed 321 missioners on the ground in the third poorest country in the western hemisphere. This coming Easter 2007, the total goes to 346 when Gehlen sends 19 students and 6 adult chaperones to Honduras for the seventh straight high school team.

Once in Honduras, the medical team traveled north by bus to our base location in El Guante. The team kept busy the first night in Honduras with packing medicines and equipment for the next day's long journey to Montana de la Flor (The Flower Mountains) in the northeast corner of the district of Francisco Morazon. From El Guante the trip to MDLF takes about 4.5 hours on treacherous mountain roads, crossing rivers six times. Living in the Montana de la Flor is the oldest ethnic group known in Honduras, the Tolupan. This group of indigenous people has lived in that area of Honduras for hundreds of years. Their language, Tolupan, is over five thousand years old and is directly related to the southernmost Sioux Native Americans, the Hokan Sioux. The Tolupan of Montana de la Flor are one of the poorest and most remote peoples living in Honduras today. To get medical care they would have to walk many hours to a clinic on the other side of the mountain. From where we set up our base camp in the MDLF, it still can take some of the Tolupan, who live much higher in the mountains, hours of walking to get to clinic.
Wherever there is a human being, there is an opportunity for kindness.


~ Seneca

Believe, when you are most unhappy, that there is something for you to do in the world. So long as you can sweeten another's pain, life is not in vain.


~ Helen Keller
Lizzie Ryan commented, "It's not essential to speak the same language as those you help. My dad can only pronounce some words in Spanish. But, my dad, like most, can understand a laugh or a smile, and there were plenty of laughs and smiles on our trip to Honduras."
The past few years have found the medical / dental teams sent by Gehlen going to Montana de la Flor, and the Tolupan people, where medical / dental care is almost non-existent. The Gehlen program has worked hard at building a relationship with this very special and wonderful group so as to bring health care to them at least once a year. Because our focus in Honduras has started to shift primarily to the Tolupan, the medical team this year spent the first five days and four nights in the mountain.
Carlos Delgado commented, "It was wonderful to see the Tolupan people recognize us during this, our third visit to Montana de la Flor, and greet us with a big smile."
During those five days our team treated 655 Tolupan (also called Xicaque). Our patients were 45% children age 5 and under and 60% female.

Not everything that is faced can be changed,
but nothing can be changed until it is faced.
~ James Baldwin

Some of the major illnesses / diseases our team treated were: a great deal of malnutrition, malaria, dengue fever, chagas disease, diarrhea, parasites, funguses, hypertension, diabetes, asthma and pneumonia, other pulmonary problems requiring nebulizer treatments, urinary and vaginal problems, many infections, fevers, skin diseases (head, body, feet), a great deal of tuberculosis (in and out of treatment), scabies, lice, many pregnant women with no prenatal care, many lacerations and wounds from machete injuries, ear problems, total body pain, otitis media, strep throat, and a great many eye problems due primarily to burning wood in the homes. We performed a good many ultrasounds right in the field and consulted with every known pregnancy about health issues. Our two dentists saw 121 patients and extracted 275 teeth while in the mountains. Our nurses checked blood pressure on all patients, temps on some, and gave shots when necessary.
On coming into clinic each patient first receives piperazine and mebendazole, followed by an examination by our nurses. Throughout each day we will triage those who are the sickest to the front of the line – to be seen by one of our doctors as fast as possible. Each patient that comes to clinic, along with receiving their prescribed medicines, also receives soap, shampoo, toothpaste, a toothbrush, and vitamins to take with them.
Richard Seivert, director of Gehlen Catholic Mission Honduras, commented, "This year's trip was incredible. To a non-health care professional like myself, I am always amazed to see these doctors, dentists, pharmacists, nurses, and translators work in the conditions they do. It is a great testament to them to give of their time, talent, and treasure to bring health care to a very poor people. I know they will never forget their experiences."
Seivert also gave praise to the many wonderful friends in Honduras that help carry out this trip each year.
You're happiest while you're making the greatest contribution.

~ Robert F. Kennedy
After five days in the Montana de la Flor our medical / dental team returned to our base location in El Guante and prepared to extend our mission to two more rural villages, each closer to El Guante. Day number six found our team in Majada Verde where the medical team treated 325 patients and our dental team 42. Throughout the seven working days of our clinic our two dentists extracted 403 teeth, did ten fillings, and saw numerous other oral hygiene problems. Our last and final clinic was in the village of El Espino/Jiniapa. It was scheduled for only half a day, and our medical team saw 149 patients while the dentists saw 25.
During the trip to Montana de la Flor our pharmacists filled 1,965 prescriptions in the five days of clinic. In the one day in Majada Verde they filled 975 prescriptions, and on the last day in El Espino / Jiniapa they filled 447. In total our pharmacists filled 3,387 prescriptions during the seven days of our clinics.
Along with the Gehlen program, a not-for-profit foundation was established years ago to carry out aid to the people in and around El Guante, Honduras. To date, Mission Honduras LeMars has done many wonderful things - from clinic construction, food programs, medicine programs, and water projects. The organization continues to raise money for the benefit of these wonderful people. For more information on MHL, click this link: www.missionhonduraslemars.org.
In a typical year, Gehlen Catholic High School obtains free medicine from four different humanitarian agencies to be used during international medical mission trips like this. This year we were able to get most of our medicine from MAP International, Brunswick, Georgia, and purchase the rest from Dutch Mill Pharmacy, Orange City, Iowa. Much thanks to MAP and Dutch Mill Pharmacy.
Life is what we make it, always has been,
always will be.
~ Grandma Moses

Francis Seivert, team leader said, "For one like myself that has been in la Montana de la Flor many times, it was very special to see so many of the indigenous Xicaque come to the clinics for health care. For many it was a long and difficult walk. When a Xicaque woman gives you her young child to hold, you know that she is trusting of you. My heart was saddened to see so much malnutrition and sickness this year. More indigenous came for health care this year, which means we are developing a trust relationship with them. Watching the team adapt to the rugged living and working conditions makes all the preliminary work, planning and logistics worth it. Just to have a little two-year-old indigenous child smile as you hold her is worth all the effort. I cannot wait to go back."
Planning for this year's mission trip began last spring. An early decision was made to increase the trip from nine days to ten and take a day off, as previous missions had done. It was further decided that this team would almost double their time in Montana de la Flor from three days to five days with the Xicaque (Tolupan) people. For a more complete explanation of the Tolupan people go to the internet – you will find many fascinating things. Also refer to Anne Chapman's book Masters of Animals.
While our medical team was in the Montana de la Flor, and much to our surprise and pleasure, author Anne Chapman came for a visit to the Tolupan people. Many years ago she spent a great deal of time with the Tolupan as a cultural anthropologist and authored the book Masters of Animals. A good number of our medical team had their own personal copy of her book with them in the mountain, and on meeting the famous author, had her sign their copy. The team got to spend a good deal of time with Anne Chapman, and she commented how wonderful our program was in bringing health care, blankets, and food into the mountain.
If the only prayer you ever say in your entire life is thank you, it will be enough.
~ Meister Eckhart
Please click on the 'photo album icon' below. It will open hundreds of pictures from this year's mission trip for you to view.
The theme for this year's medical mission was PRAYER. Mother Teresa once said, "If you pray you will believe, if you believe you will love, if you love you will serve."
It was an INCREDIBLE mission experience. Our lives will never be the same.
Thank you for viewing our website and thanks to all team members for their service through PRAYER.
Also, please feel free to contact us at the address below. We would love to hear from you.
Richard E. Seivert
Gehlen Catholic High School
709 Plymouth Street N.E.
Le Mars, Iowa 51031
1-712-546-4181 (school)
1-712-546-7346 (home)
rseivert2@yahoo.com
Director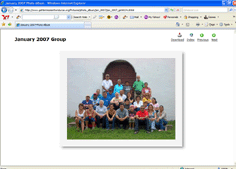 Click above to browse the January 2007 Trip Photo Album...