Gehlen Catholic Mission Honduras 'Changing Lives'
2011 Journey
Celebrating the 12th straight year of mission teams into Honduras, Gehlen Catholic Schools hosted a send-off ceremony for 41 high school students and adults on Thursday, April 14th in the school gymnasium. This ceremony has become a wonderful expression of faith and tradition for the entire school and community. This year's theme, 'Heart So Full, Can't Explain' became the central focus of the entire ceremony. After a brief introduction to the program by Richard Seivert, director of Mission Honduras, the High School Choir along with our elementary Select Choir sang a beautiful rendition of, "On That Holy Mountain." This group of 41 students and adults was the third and last group under this mission program this year. Prior to this team a group of 21 students and adults from Springfield Catholic High School in Springfield, Missouri, entered Honduras on March 24th and worked right up until they left Honduras on April 1st having gotten a great start on the water project in the village of Vallecillo. On April 4th a team of 20 students and adults from St. Thomas More High School in Rapid City, South Dakota, entered Honduras and picked right up where Springfield left off and worked on the same project until they left Honduras on April 12. The third and final team mentioned above entered Honduras on April 15 and returned home on three successive nights the week of April 25th.
A very special part of this year's send-off ceremony at Gehlen involved the recognition of Carolyn Bickford and Al Vonnahme for all their work and effort in the mission programs of Gehlen Catholic Mission Honduras, Mission Honduras LeMars, and Then Feed Just One. They were presented with 'The Cross of Gehlen Catholic Mission Honduras' by their families. This was only the fifth time in the history of the program that someone had been recognized with this honor.
Once again Richard Seivert recognized our local Rotary Club, the district Rotary Clubs, and International Rotary for the wonderful support they have given the many water projects throughout the years. The water project undertaken by all three groups this year was funded largely with International Rotary Grant money.
As has become a very strong tradition of these yearly ceremonies, Carolyn Bickford presented the PowerPoint DVD produced from last year's mission journey titled, Cuidandome (Watching Over Me), and the story of bringing fresh, clean drinkable water to the small village of La Florida. Richard Seivert did inform the crowd at the send-off that this is the 28th water project undertaken through this program.
I never said it would be easy;

I only said it would be worth it.
An emotional and very special part of the ceremony unfolded when all missioners were introduced and presented with their t-shirts, crosses, passion readings, and junta booklets by family members. As the 39 team members who were present formed a large heart shape in the center of the gym, six kindergarten students carried in the wooden cross and placed it in the middle of the heart, followed by senior and junior classmates who brought in the rest of the bags of donated items. At one point all team members ceremoniously carried bags to the cross in the center of the gym while the theme song 'When You Believe' played in the background. Following the theme song, Fr. Kevin Richter and Fr. Matt Hewitt led the group in praying aloud 'Prayer before a Journey' as the high school choir sang "Let Me Be Your Servant." Fr. Kevin Richter, president of Gehlen, then blessed all missioners and bags with Holy Water. The mission team overnighted in Omaha, Nebraska, on Thursday night April 14th and flew out early the next morning for Tegucigalpa, Honduras, and the start of this wonderful journey of 'Heart So Full… Can't Explain.'

The third leg of this year's mission program arrived in Tegucigalpa, Honduras, right on schedule, Friday, April 15th. They were met at the airport by Francis Seivert, who had spent the previous weeks in Honduras making final preparations for this mission – just like he had done for the previous two teams from Missouri and South Dakota. Also meeting them were Sister Joan Polak, Linda Reichle, and Julio Rivera. This was the 69th trip into Honduras for Francis Seivert, representing Gehlen's program. The team arrived without 44 of the 76 flight bags. It would be another two days before the team had all the supplies and personal belongs in those late-to-arrive bags. Team members are encouraged to live simply and humbly while in Honduras so the absence of a few bags made little difference. They shared.
Following is a complete list of all three groups that worked in Vallecillo during this month long mission experience:
From Springfield Catholic High School: Melissa Atwell, Lauren Mahaffey, Macy Ballenger, Kirsten Bureman, Merica Clinkenbeard, Connor Dahlberg, Chastyn Donica, Nick Engler, Mona Haller, Megan Haller, Donald Kratz, Brandon Kratz, Devin Merz, Emily Ortega, Sheila Ortega, Stephanie Rice, Steve Rice, Gregory Tellatin, Samantha Tellatin, Niko Temofeew, and Mary Becker. Unfortunately due to a passport oversight on our part at Gehlen Mission Honduras, one very special team member from Springfield Catholic was prevented from joining her team. Peyton Jocum, who had gone to Honduras the previous year, unfortunately remained home. We express our sincere apologies to her, her family, her school, her mission team, and the entire Springfield Catholic community. On hand for this first group were Francis Seivert and Sr. Joan Polak, representing Gehlen Mission Honduras.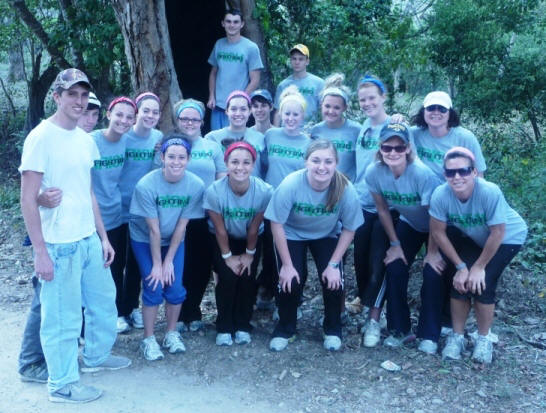 From St. Thomas More High School: Sarah Huebner, Ethan Acuna, Mary Casey, Derek Determan, Dan Duffy, Liam Duffy, Caitlin Duffy, Katie Falkowski, Lauran Feist, Katie Freidel, Bill Freidel, Andy Hanson, Jonathan Hofer, Barb Honeycutt, Michelle Jaeger, Fr. Mark McCormick, Tyler Richardson, Connor Trinter, Elizabeth Wade, and Lauryn Weber. On hand representing Gehlen Mission Honduras were Francis Seivert, Sr. Joan Polak, Linda Reichle, and Carolyn Bickford.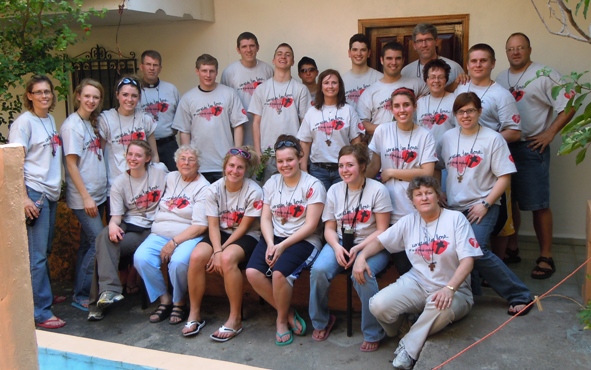 From Gehlen Catholic, Bishop Heelan, and Kingsley Pierson High were: Al Vonnahme, Sister Renae Hohensee, Katie Dougherty, Jenny Rehan, Bailee Schultz, Corinne Spears, Katelyn Walsh, Julie Hagen, Josh Vaske, Becca Vonnahme, Carolyn Bickford, Mitch Christoffel, Fr. Jerome Cosgrove, Mitch Duckwitz, Ashley Ellensohn, Mary Henrich, Rachael Heuertz, Brittany Jaminet, Mike Jaminet, Mary Klein, Matt Klein, Eric Loutsch, Joe Loutsch, Sana Naqvi, Zach Maxey, Greg Probst, Becca Swalve, Steve Swalve, Brittney Tegels, Megan Tentinger, Nick Wankum, Patrick Washburn, Kyle Walsh, Jeff Adam, Anthony Moreno, Pete Fitzsimmons, A.J. O'Brien, and Sam Ahlers. On hand representing Gehlen Mission Honduras were Francis Seivert, Sister Joan Polak, and Linda Reichle.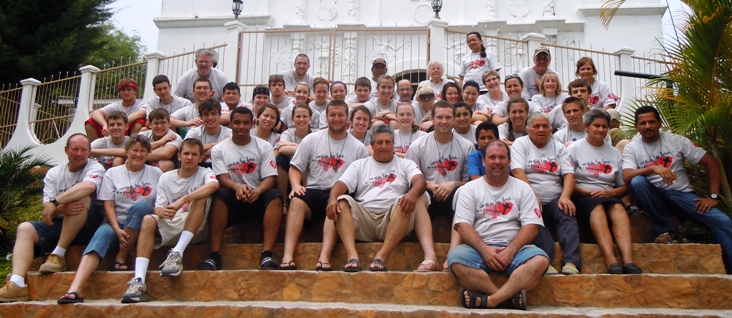 Each missioner on all Gehlen Catholic mission trips is responsible for all his/her own costs. To date the Gehlen program has placed 619 missioners (31 different teams) on the ground in the second poorest country in the western hemisphere. Four other mission programs have been created from Gehlen Mission Honduras - the Briar Cliff University program in Sioux City, IA, the Sisters of St. Francis, from Dubuque, IA, and the high school mission teams from Springfield Catholic High in Springfield, MO, and St. Thomas More High School, Rapid City, SD, which is making their first trip into Honduras this spring. The Gehlen program, along with the Briar Cliff, the Sister Water Project, Mission Honduras LeMars, and Rotary For Life Water Project, have completed 28 water projects to date. Clean drinkable water, Then Feed Just One food, and professional medical care, remain the major goals of the Gehlen Catholic program. For more information on the medical program please visit this same web site for the January medical trips. For more information on Then Feed Just One please visit www.thenfeedjustone.org. For more information on Mission Honduras LeMars go to www.missionhonduraslemars.org.
After being met at the airport in Tegucigalpa, the team was divided into two groups. The first group of ten would remain for six days in Tegucigalpa and work at Mother Teresa's Children's Home and eventually join the water team on Holy Thursday. This part was a new addition to this program due to the large number of students who wanted this mission experience. The other 31 made a three and a half hour bus ride to the small village of Esquias, Honduras. Esquias is a small colonial village straight north of Tegucigalpa just inside the district of Comayagua. The previous nine mission teams into Honduras have called Esquias their home while in the country. Planning for this mission journey began in earnest in early summer 2010 when Francis Seivert, Carolyn Bickford, Linda Reichle, Sister Val Knoche, and Richard Seivert traveled to Honduras to lay initial groundwork.
The team of ten that remained in Tegucigalpa had a wonderful experience working with many children at Don de Maria's (Mother Teresa's) and the St. Terese of Jesus school in New Capital run by Fr. Patricio and Fr. Ramon from Spain. Fr. Patricio and Fr. Ramon administer a large charitable organization known as ACOES. They were helped greatly by another good friend to our program – Marta Sosa, from the Cerro de Plata Foundation, who spent a good deal of time with the Tegucigalpa group. Besides working with so many beautiful and wonderful children, the Tegucigalpa group got to unload a special container of food. On March 30th, Then Feed Just One of Le Mars, shipped a container of 270,864 meals to the Cerro de Plata Foundation to be used in children's homes and orphanages throughout the whole area. The six Heelan girls, along with Josh Vaske from Gehlen, actually got to unload some of the very Then Feed Just One meals that students at Heelan had packed on March 23rd. What a special moment for them!
Every action in our lives touches on some chord that will vibrate in eternity.

~ Edwin Hubbel Chapin

God comes to the hungry in the form of food.

~ Mahatma Gandhi
This year's water project became a new water system in the rather large village of Vallecillo, high in the mountains, 1 hour and 10 minutes from Esquias. Vallecillo has always had problems with water for all their needs. This project, when completed, would bring clean drinkable water to this sprawling village of 104 families and 705 people. This project involved building three huge reservoirs to capture water from natural water sources, constructing two brick and cement 5,000 gallon water tanks atop a hillside, the purchase of one new electric pump, digging trenches from the reservoirs to the tanks and from the tanks to each home in the village, burying the pipes throughout the village, running a water line with a shut-off valve to each home, hooking up the pumps to the tanks, and filling the tanks with water. Once at the tank all water projects are chlorinated to provide clean drinkable water for all the people of the village. On different days throughout this month-long mission journey to Honduras these teams of high school students went about the task of this water system. On their last day in the village, each team celebrated with the people of Vallecillo. Team members and village representatives spoke about the effort and how important it was to the people. On their last day each team passed out a number of the items donated from the States and carried to Honduras. From toothpaste to shoes they handed gifts of friendship to the adults and children of Vallecillo. It was an amazing and emotional experience for the high school students to say farewell to the people of this village. The over-all Gehlen program has three main goals for each mission journey into Honduras: to do a work project in a poor rural village, to immerse themselves in Easter Week celebrations with Catholic Hondurans, and to experience the poverty that grips so much of this beautiful country and people.
| | | |
| --- | --- | --- |
| | | I will forever owe Mission Honduras and all of the people who made my mission trip possible. They have changed my whole perspective on life. |
| It's ironic that for me to see a fully developed community, I had to visit a 'developing country.' | | |
| | | In Honduras I found it is the little things in life that make us happy. |
Along with the work project in Vallecillo and Mother Teresa's in Tegucigalpa this last mission team got to experience many of the other facets of Gehlen Mission Honduras, Then Feed Just One, and Mission Honduras LeMars. All three mission teams had the opportunity to travel to Sulaco, Honduras, just inside the Yoro District. In Sulaco the teams got the opportunity to visit the malnutrition center, Casa Carolina, and see poverty up close – a very emotional experience for all of them. While in Sulaco at the malnutrition center the students played games and generally held the small children of the center. Simply paying attention to the children is often one of the greatest sources of love.
When love is your greatest weakness, you will be the strongest person in the world.

~ Garman Wold

Listen with your heart,
learn with your mind,
love with your actions.

~ Mother Teresa
This mission team also fulfilled another of the program goals through the religious celebrations held during this very holy time in the Catholic church. To experience Easter in the Spanish speaking culture of Honduras is very special. A wonderful addition to the mission team again this year was Fr. Jerome Cosgrove, Bishop Heelan High School, Sioux City, IA. Fr. Cosgrove was making his fourth mission to Honduras and immediately jumped headlong into all the activities of the student trip. He worked on the water project, side by side with the students in the village of Vallecillo, often saying Mass right in the village, and quite often said Mass for the missioners within the compound in Esquias. Fr. Cosgrove and all team members participated in all the Holy Week celebrations while in Honduras. On some occasions he concelebrated with Fr. Inez Bonilla, pastor of the Church of Esquipulas in Esquias. A couple of highlights for Fr. Cosgrove and the entire team were those times when he celebrated Mass in the courtyard of the compound where the team stays. Team members say they are very special Masses.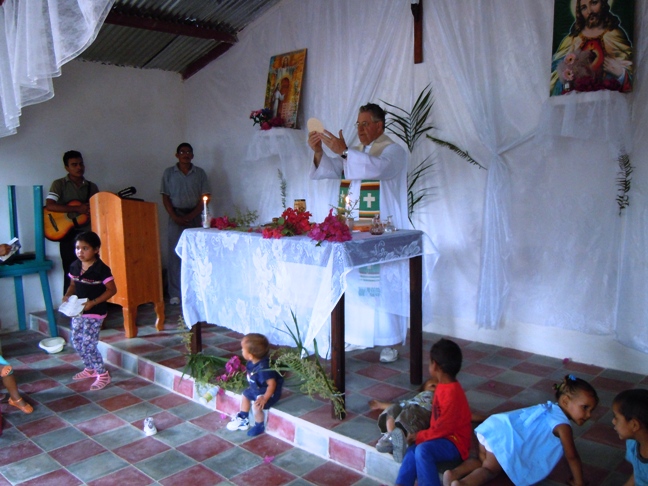 Christ said we could move mountains if we had faith, but He didn't say we wouldn't need a shovel.
~ Joyce Vollmer Brown
While in Honduras the high school students from all three programs were encouraged to immerse themselves in the culture and to interact with students their age. From working daily in Vallecillo, to soccer matches and religious celebrations, our student teams got a taste of what it is like to live with very little. From hand washing their own clothes and doing daily chores, to one-minute cold showers and sometimes bucketing water for toilets, to working in the daily heat of over 100 degrees, to long rough rides through the mountains each day, our students and chaperones experienced the normal life of a person in Honduras. The teams worked hard at using Spanish, and many of the students said they improved greatly. These teams made many new friends during each of their respective trips. Many did not want to leave. The Gehlen student program over the years has developed a custom of returning home with only the clothes on their backs. Each year the individual team members begin sorting through all their personal items and on the last day stacking everything in their living quarters. These items will be taken by the ladies and men of the village, washed, and distributed among the most needy. This practice has been passed on to the teams from Springfield and Rapid City. That alone says a great deal about the quality of young people we deal with.
The Gehlen, Heelan, Kingsley mission team experienced an extra few days in Honduras when their return flight was cancelled because of poor visibility and the smoke from the many mountain fires burning throughout Honduras. The team was forced to relocate to the city of San Pedro Sula and that airport for guaranteed return flights. They returned home over a period of three nights, tired but full of the energy of the wonderful Honduran people they met, worked with, and lived with. The theme of this year's journey, 'Heart So Full…Can't Explain,' was experienced each and every day the young people saw, worked, and interacted with the people of Honduras. Each missioner, touched by their days in Honduras, was changed – many forever. Each missioner encourages others around the world to get involved in helping those less fortunate. To a person, each member of this year's teams were sad to leave the wonderful people of Honduras, the wonderful people of Vallecillo and Don de Maria – we will never forget you and we will pray for you. We hope we came into your lives – you certainly did into ours, never forgetting that God's Heart is so Full we can't explain.' God Bless Honduras. God Bless The Poor Of The World.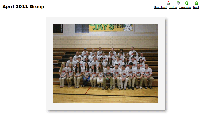 Click above to browse the April 2011 Trip Photo Album...
Click the hyperlink to watch a Flash Movie of this year's trip.
Click on each icon to watch the video.
We don't know
who we are
until we see
what we can do.

~ Martha Grimes