Gehlen Catholic Mission Honduras
Changing Lives
2014 Journey
The 14th Gehlen Catholic student mission trip kicked off with a very moving send-off prayer service in the Steve Shea Memorial Gym on Tuesday, March 18. Fr. James Tigges, who has participated in three previous mission trips, spoke of how special mission work is and its necessity. The twenty-eight adult and student missioners each lit a candle as Christian Leadership Team members read aloud the reason each missioner was lighting his/her candle and the reason they wanted to go on the mission trip. Family members then presented the missioners with their t-shirts, crosses, and "junta" booklets, sending them out with their blessings.
Gehlen Catholic School students and staff lined memory lane from the school door to the bus, many of them holding signs that shared notes of encouragement. As the missioners carried the bags filled with donated supplies through the human tunnel, the students touched the bags, signifying that a part of each of them would travel with the missioners into Honduras.
Don't spend your precious time asking, "Why isn't the world a better place?" It will only be time wasted. The question to ask is, "How can I make it better?" To that there is an answer.
~ Leo Buscaglia
I will never forget the people of Nueva Capital and how they have changed my life for the better.
~ Megan Livermore
This team's mission was to build homes for two extremely poor families in the Nueva Capital area of Tegucigalpa. Nueva Capital is mainly comprised of families who had to move to higher ground when Hurricane Mitch destroyed their homes in 1998. Although previous Gehlen Mission Honduras teams had worked on water projects, this year's team was unable to do so due to the absence of water projects in the area to which they travel. The team would work in Honduras from March 19 – March 28.
Francis Seivert, Julio Rivera, Marta Sosa, and Carlos Chicas met the team at Toncontin Airport in Tegucigalpa. Francis had been in Honduras since January preparing for the team's arrival, as well as working with various children who have medical problems. Julio Rivera accompanies Francis throughout Honduras and is a long-time friend of Mission Honduras LeMars, Gehlen Mission Honduras, and Then Feed Just One. Marta Sosa, a member of the Cerro de Plata Foundation in Tegucigalpa, handles the distribution of Then Feed Just One food in Honduras. She also helped in the planning for the 2014 Gehlen Mission trip. Our bus driver Carlos has become a trusted friend of Gehlen Mission Honduras over the years. He is much more than a bus driver for our team, pitching in all aspects of the trip. This group quickly had the team loaded onto buses and on the way to Nueva Capital.
My life is genuinely better because of what I learn from the people of Honduras. My hope is that I will never stop giving, never stop loving,
and never forget the poor of the world.


~ Linda Reichle

Even with the little bit that they have, the Honduran kids are happy and grateful.
~ Kyle Hunt
This year's mission team consisted of Carolyn Bickford (team leader), Linda Reichle, Sr. Joan Polak, Dave Klein, Janet Klein, James Klein, Pat Jones, Bruce Kellen, Dan O'Brien, Randy Freking, Corey Sitzmann, Adam Sitzmann, Kennedy Rolfes, Emily Pratt, Mariah McCarty, Patrick Livermore, Megan Livermore, Colton Kneip, Michelle Klein, Alex Kellen, Kyle Hunt, Brady Heying, Kelly Full, Sadie Freking, Rebecca Feller, Miranda Bunkers, and Caroline Ascherl. After arriving at Santa Teresa de Jesús School, their compound for the trip, the team settled into their cramped quarters and readied themselves for their 10-day mission.
Each missioner on all Gehlen Catholic mission trips is responsible for all his/her own costs. To date the Gehlen program has placed 750 missioners (34 different teams) on the ground in the second poorest country in the western hemisphere. Five other mission programs have been created from Gehlen Mission Honduras - the Briar Cliff University program in Sioux City, IA; the Sisters of St. Francis, from Dubuque, IA; the high school mission teams from Springfield Catholic High in Springfield, MO, St. Thomas More High School, Rapid City, SD, and Bishop Heelan High School, Sioux City, IA. The Gehlen program, along with the Briar Cliff, the Sister Water Project, Mission Honduras LeMars, and Rotary For Life Water Project, have completed 37 water projects to date. Clean drinkable water, Then Feed Just One food, home building, and professional medical care, remain the major goals of the Gehlen Catholic program. For more information on the medical program please visit this same website for the January medical trips. For more information on Then Feed Just One please visit www.thenfeedjustone.org. For more information on Mission Honduras LeMars go to www.missionhonduraslemars.org.
Seeing that the food they were eating was Then Feed Just One food that we packed, and knowing that it was the food these kids had to survive on, was powerful.
~ James Klein
During my trip, I have learned more about who I am as a person and how much I can really
give of myself.
~ Kennedy Rolfes
Planning for this year's mission team began during the summer of 2013 when team leaders met to decide the direction the team needed to take. With the lack of water projects around the Esquias area and other mitigating circumstances, it was determined the team would take a new direction, focusing on building homes. Marta Sosa in conjunction with ACOES located two extremely poor families in the Nueva Capital area of Tegucigalpa who desperately needed homes. Planning then began to prepare the team in the task of the home constructions.
The team "lived" at the school, using classrooms as dormitory rooms. Supplies - such as shovels, paint, construction tools, painting supplies - that the team used were stored inside their dorm rooms also. Missioners slept on mattresses that were placed on the floors in the classrooms. The team used the library for meals, which were prepared each day by our hired cook, Marta. Work days began at 5:30 – 6:00 a.m., allowing the team time to eat breakfast and finish their chores before beginning the day's project.
Now that the mission trip is over, I always remind myself that what I'm taking for granted here, my friends over in Honduras are praying for.
~ Mariah McCarty
I will never forget stepping into the house and thinking, "This is honestly what they live in everyday?" I had never seen people so happy to receive the "necessities" of life.
~ Sadie Freking
The missioners were divided into groups each day to undertake the various jobs in the area. One group walked to their home construction site which was a couple blocks from the school. The second construction crew needed a short truck ride to reach their work site. The other two groups worked inside the school grounds. One group taught English lessons to students in grades 2 – 4, and the other group painted school buildings. Each day the missioners were divided into different groups to allow each missioner to do the various jobs. During the late afternoons and early evenings the missioners also carried bags of sand and rocks down the mountainside. Those materials were later used to build a chicken coop for the school. The missioners also built three picnic tables for the students to use. After the homes were built, the missioners and families painted the outside and inside of each home and installed the wiring even if the family did not have access to electricity presently.
One special day the missioners traveled to a feeding center in Talanga. At the center poor children in the program are fed a noon meal when they leave school. These children are taught to pray before meals, to wash their hands properly, to use proper table manners, and to brush their teeth after eating. The Gehlen missioners were quite excited to discover that they were feeding their own Then Feed Just One food, which had been packed in May 2013, to the children of the center. It was amazing for them to see the food, packed with their own hands in Le Mars, actually being eaten in Honduras.
I pray for the people of Honduras and I hope those in most need are getting the food and
the water they need to survive.
~ Janet Klein

There are no words I can say that will begin to let people understand how God worked in every single one of us during this trip.


~ Caroline Ascherl
The overall Gehlen Catholic Mission Honduras 'Changing Lives' program has three main goals for each mission journey into Honduras: to do a work project of some kind, to immerse themselves into normal Honduras life, and to experience the poverty that grips so much of this beautiful country and people.
When the missioners delivered the gift bags to the homes of the Santa Teresa school children, the poverty was quite apparent to all. The families receiving the gift bags smiled as the missioners unpacked soap, shampoo, toothbrushes, toothpaste, lotion, toys, clothes, and shoes and spread them onto a bed for all to see. Even the bag the items were delivered in was considered a gift to the family. Seeing the dirt floors and walls of worn boards with gaps between them, truly gave the missioners an eye-opening look at the reality in which the Honduran children live each day. The formidable walks the children undertake in the early morning hours to get to school by 7 a.m. showed how important their education is to them.
How much time do I spend worrying about trivial things, while people in Nueva Capital worry about how they are going to feed their starving children?
Too much, I'm afraid - way too much!
~ Pat Jones

Although I have witnessed much poverty throughout my years of mission trips, nothing caught me more off guard than Paola's situation. I could not believe the circumstances in which she and her brothers lived.
~ Carolyn Bickford
The 2014 mission team definitely met the goals of their mission trip. From working diligently on their chosen work projects, to playing with the children, to participating in liturgies, our team received the opportunity to see what Honduran life is like. From hand washing their own clothes in the pila, doing daily chores, and taking one-minute cold showers, our missioners experienced a little of what life is like for a person in Honduras. The missioners worked hard at using their Spanish, and many students were happy to be able to carry on a conversation with someone in Honduras. Many friendships were forged. Not a single team member was ready to return to the States when the final day of their trip arrived.
It has become customary for the missioners to return home with only the clothes are their backs. Team members sorted through all their personal belongings and stacked them in a designated area in their rooms. These items will be taken by the ladies and men of Nueva Capital, washed, and distributed among those who are the neediest. Team members leave not only their clothing, but their shoes, flashlights, sunglasses, and other items. That alone says a great deal about the quality of young people with whom we deal in our mission teams.
On the final day the missioners were given a special farewell by all the students of Santa Theresa de Jesús School. The Honduran school children sang special songs for the team. The kindergarten class held up letters that read God Bless You Gehlen Catholic Mission Honduras. The third graders presented every missioner with a personal thank you card and a hug of farewell. It was definitely a tearful farewell, especially when the students ran to the missioners and gave hugs to everyone they could.
The tired missioners returned home that evening to their families' welcome at the Omaha airport. Though all missioners were happy to be home, every single person shared their wonderful mission experience with all who would listen. This year's theme "I'll Follow You" was lived by each and every missioner as they lived their mission journey in Honduras. Each day they let Jesus shine through them as they worked and played among the Hondurans. They let Jesus shine through as they served their TFJO food at the Talanga feeding center. They let Jesus shine through as their lives were changed through their mission work. And they will never be the same.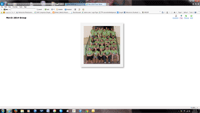 Click above to browse the March 2014 Trip Photo Album...